---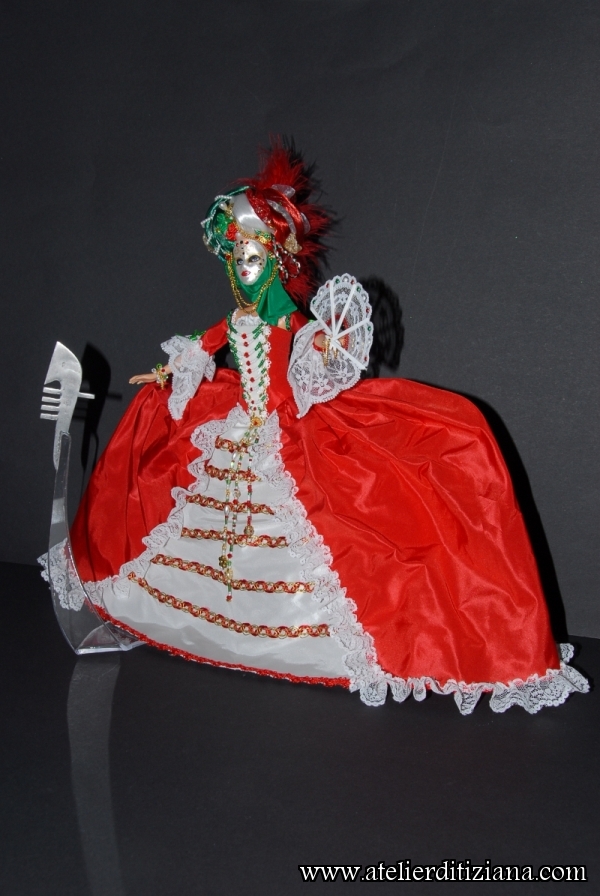 Category: Contest

OOAK Barbie with complete rerooting and repaint made for the participation in the 1st edition of Italian Doll Convention on May 29, 2011 in Milan.
Theme: "UNITED DOLLS OF ITALY"

The dress, entirely made by hand, is made of fine taffeta of pure white and red silk.
The bodice is decorated with three-colored rocailles and Svarowski crystals.
The fan has been made with lace, half pearls, metallic hardware and Swarovski rhinestones.
The hairstyle was created by intertwining the tricolor hair strands with organza, pearls, chains and has been enriched with Svarowski crystals, golden clasps and rocailles.

The mask is made with molded clay, subsequently airbrushed, painted with acrylic colors and decorated with rhinestones.

The bow of the gondola was created with plexiglass and cast tin poured in a mold made from wood.
Click on any image to view a larger version of it.