---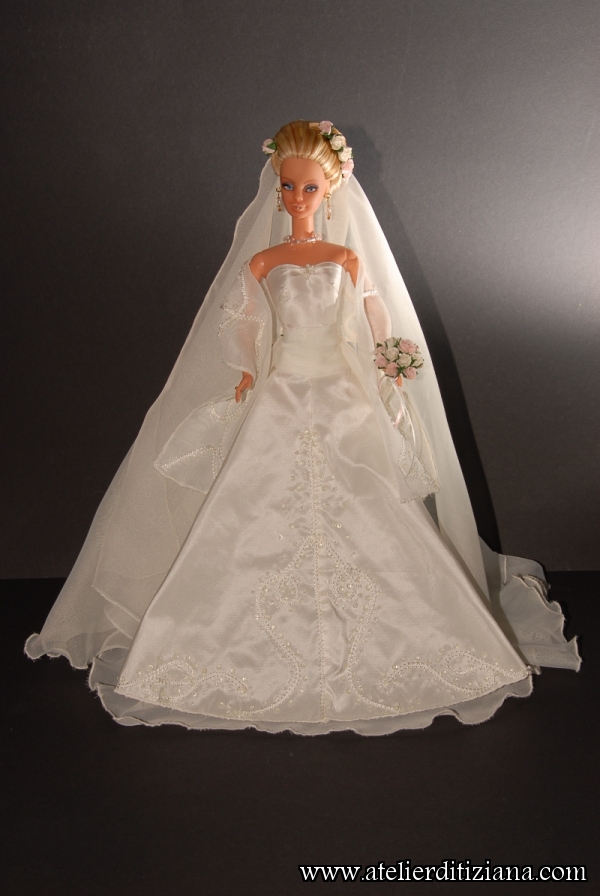 Category: Wedding

OOAK Barbie bride re-coiffed with a completely repainted face with acrylic colors and professional pigments.

The dress, entirely made by hand,is in fine taffeta pure milk white silk with a large chiffon underskirt.
The skirt is embroidered entirely by hand (every single element is hand-sewn) and presents decorations in shiny trimmings and sequined and beaded applications in shades of pearly white and ivory.
The back of the dress is enriched by a drape of large flounces in voile adorned at the waist with a decoration of roses.

The stole is made in voile and is embroidered by hand keeping the same pattern of the skirt.

The hairstyle is completed by the same flowers used for making the bouquet and for the decoration on the back of the dress: cream and pale pink roses.
The veil is in voile.

Swarovski crystals and beads have been used for the earrings and the necklace.
Click on any image to view a larger version of it.