---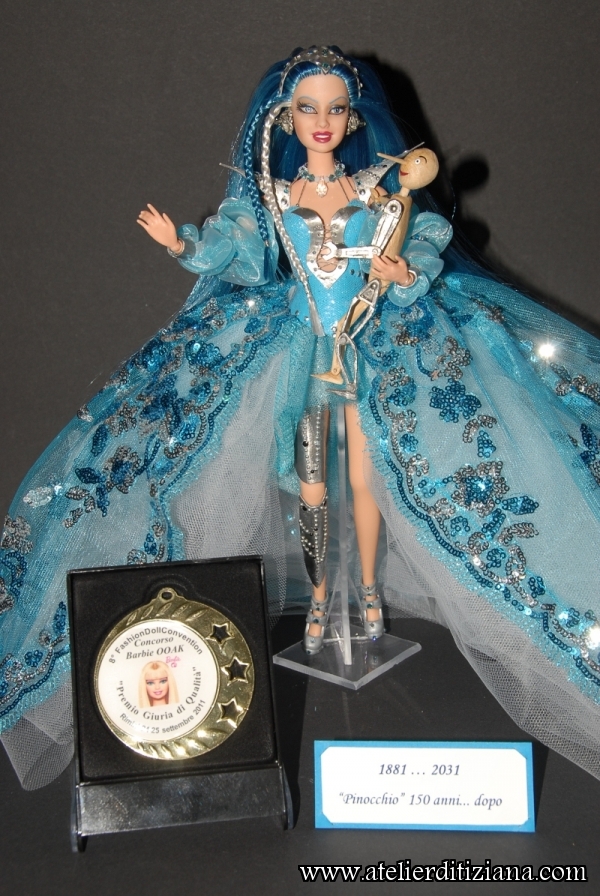 Category: Character, Contest

OOAK Barbie
"1881 ... 2031 PINOCCHIO 150 YEARS ... AFTER"

winner of the "Jury Award of Quality"

at the 8th edition of the Fashion Dolls Convention in Rimini on 24/25 September 2011.

Theme: "150 YEARS ... OF FABLES "

The dress, entirely made by hand, is in turquoise tulle embroidered with turquoise and silver sequins.
The bodice, made of papier-mâché, is decorated with tulle and metal rhinestones. The sleeves are in turquoise and white organza.
The necklace has been created with Swarovski crystals.
For the rerooting of the hairstyle I used nylon hair "pacific ocean" and "atomic turquoise". metal parts were made with cast tin and then decorated with small metal decorations and Swarovski rhinestones.
Pinocchio was made with wood and cast tin poured in molds previously designed and studied specifically for this OOAK.
Click on any image to view a larger version of it.