---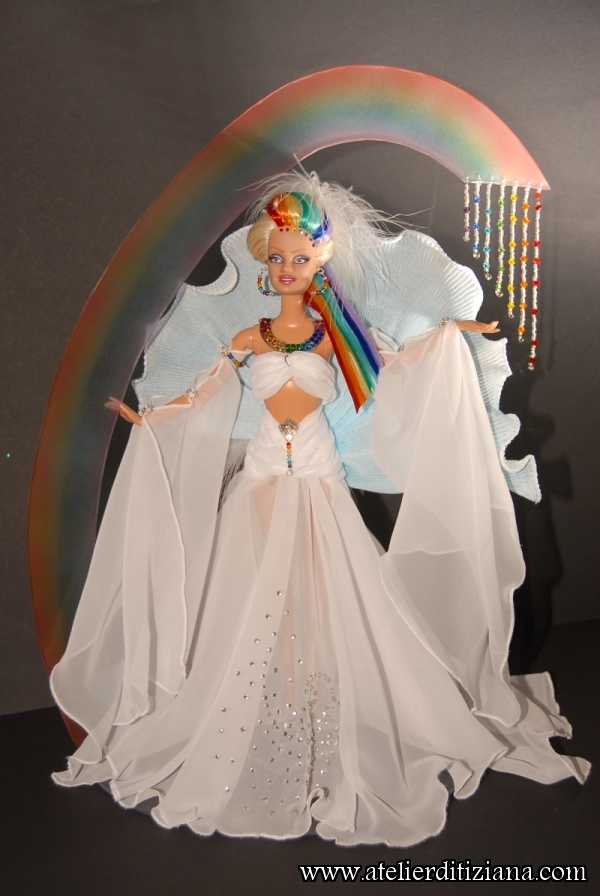 Category: Contest

OOAK Barbie "ARCOBALENO" (Rainbow)

Made for the participation in the 2nd edition of
Italian Doll Convention of May 27, 2012 in Milan.
Theme: "GOES GREEN"

OOAK Barbie with complete repaint and partial rerooting.

The dress, entirely made by hand, is in white voile.
The upper part is enriched by a "jewel collar" made with Swarovski rhinestones in rainbow shades, as well as the jewel at the waist created with Swarovski bicones.
The transparent and light skirt symbolizes the air and the rhinestones applied symbolize the drops of water.
The large fan, on the back of the dress, in airy pleated blue, represents the sky.

The hairstyle presents a rerooting with strands of hair in the colors of the rainbow and the white feather of marabou is to symbolize the clouds.

The rainbow, made of plexiglass, has been airbrushed and adorned with Swarovski crystals and rocailles.
Click on any image to view a larger version of it.