---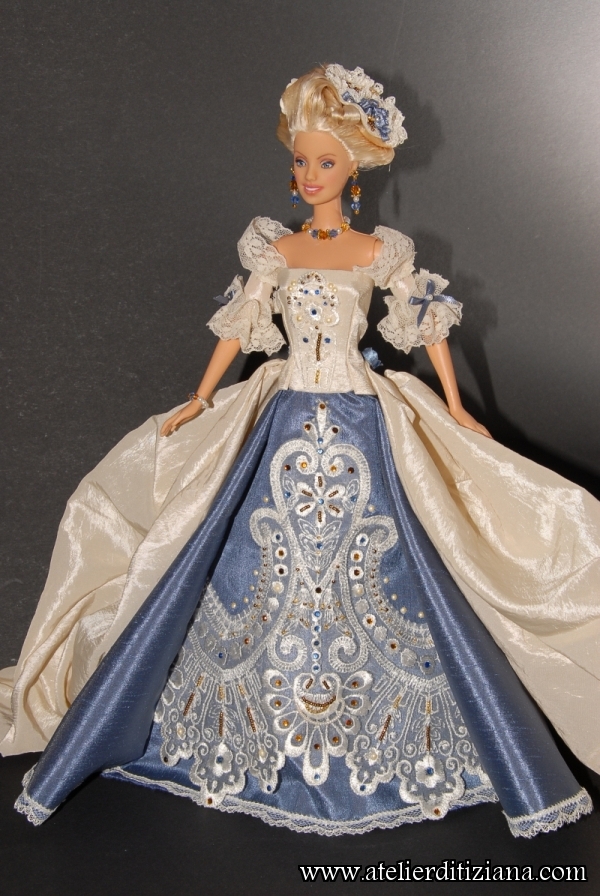 Category: Retro

OOAK Barbie re-coiffed and with total repaint made with acrylic colors and professional pigments.

The dress, entirely made by hand, is in taffeta and silk.
The navy blue silk skirt is enriched by an application in embroidered tulle embellished with rocailles, half pearls and rhinestones applied entirely by hand.
The overskirt is in cream taffeta and is adorned with light blue satin roses.
The bodice is made with the same fabric of the overskirt and presents an application in embroidered tulle (like the one on the skirt) with Swarovski rhinestones, rhinestones, rocailles and half-pearls.
The sleeves, in cream taffeta, are finished with lace and satin bows.

The hairstyle is enriched by roses and a pretty cap in cream taffeta, embroidered with lace, satin ribbon and the same applications used for the dress.

The necklace, the earrings and the bracelet were made with Swarovski crystals, beads and gold-colored metal decorations.
Click on any image to view a larger version of it.