---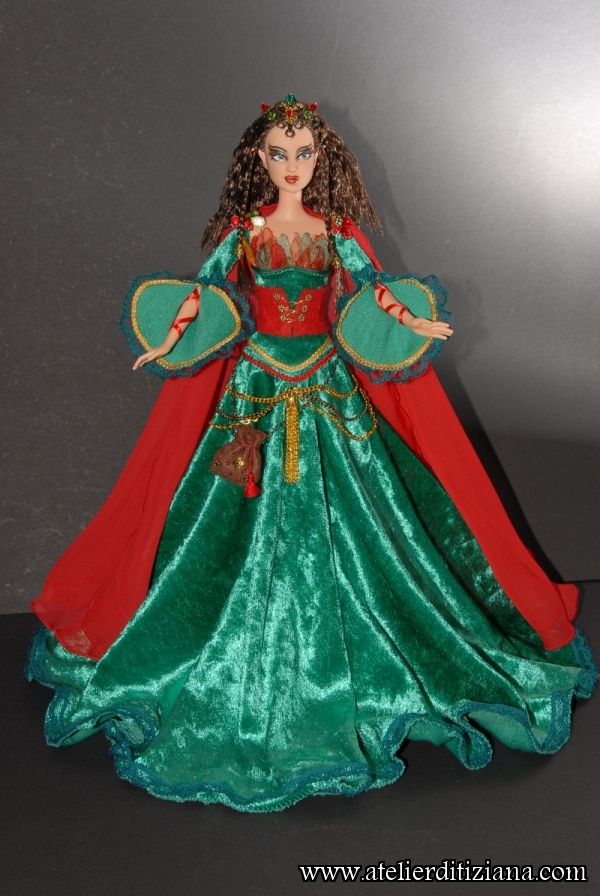 Category: Fantasy, Commissioned

Fantasy OOAK Barbie "Queen of the Elves".
Complete Repaint made with professional acrylic colors and pure pigments.
The pointed ears were created with modeling clay and then painted with acrylic colors.

The dress is entirely made by hand, it is in bright green "crushed velvet" and dark green lace.
The bodice, also in crushed bright green velvet, is decorated with green, red and gold trimmings and is enriched in the upper part with organza petals of 8 colors of the dress nuances. In the middle there is a corset made of red felt and finished in gold.
The coat is in light red voile decorated on the shoulders with pistils in the colors of the other decorations.
The dress is enriched with metal chains and a "handbag" in brown felt decorated with small metal parts and iridescent rocailles.

The tiara was made with a bronze-colored metal application enriched with Swarovski crystals.
Click on any image to view a larger version of it.