---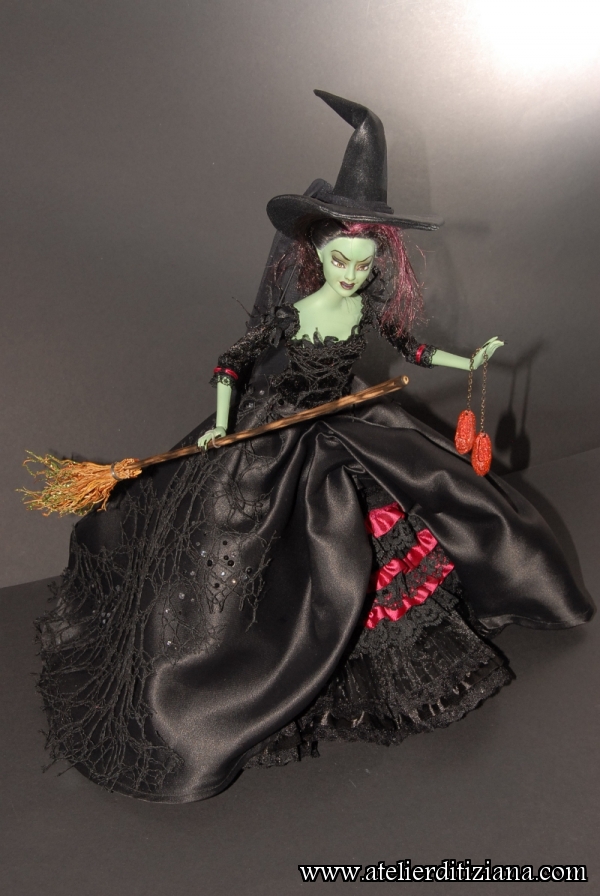 Category: Contest

OOAK Barbie "Elphaba", the witch of the west.

Total repaint and partial rerooting.

Made for participation in the "GOES MUSICAL" Contest at IDC 2013.
The dress is entirely made by hand and is composed of an underskirt made of 8 layers of tulle, a lace cropped underskirt and a black matte satin skirt enriched in numerous points by black diamond and black rhinestones.

The bodice is made of black velvet and is decorated, like the skirt, with a "spider web" in cotton entirely applied with hand stitching.
The straps and neckline are adorned with a fine work of hand-curled petals made with organza and stretch fabric (the same used to make the hat).
The sleeves are in velvet and lace.

the partial reworking of the hairstyle was performed using nylon hair "evil enchantress".
The broom has been made with real twigs and decorated with sparkling green glitter.
Click on any image to view a larger version of it.