---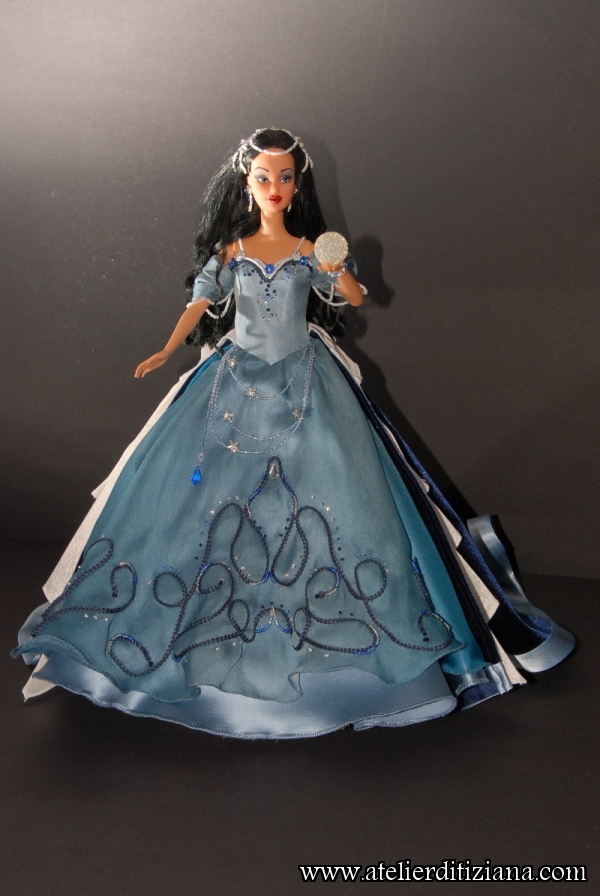 Category:
Fantasy, Likeness, Commissioned
OOAK Barbie "The night"
Made to order from photos of the cross-stitched embroidery taken from the design of
Laura Gabutti Lattuada
.
Complete Repaint.
The dress, entirely made by hand, is composed of a light blue semiglossy satin petticoat and a sheer blue gradient silk voile skirt.
The bodice, made with the technique of papier-mache, is in satin (the same used to make the petticoat) and voile of pure silk, enriched with Swarovski crystals, rhinestones and beads.
The front of the skirt is embellished with a fine embroidery made with night blue trimmings, rhinestones, Swarovski crystals and coral and is entirely hand-sewn.
On the back of the skirt there is a "tail" in blue velvet covered with rhinestones and decorated with a blue satin ribbon.
The earrings and the bracelet were created with Swarovski crystals, small metal parts, rocailles and beads.
Click on any image to view a larger version of it.