---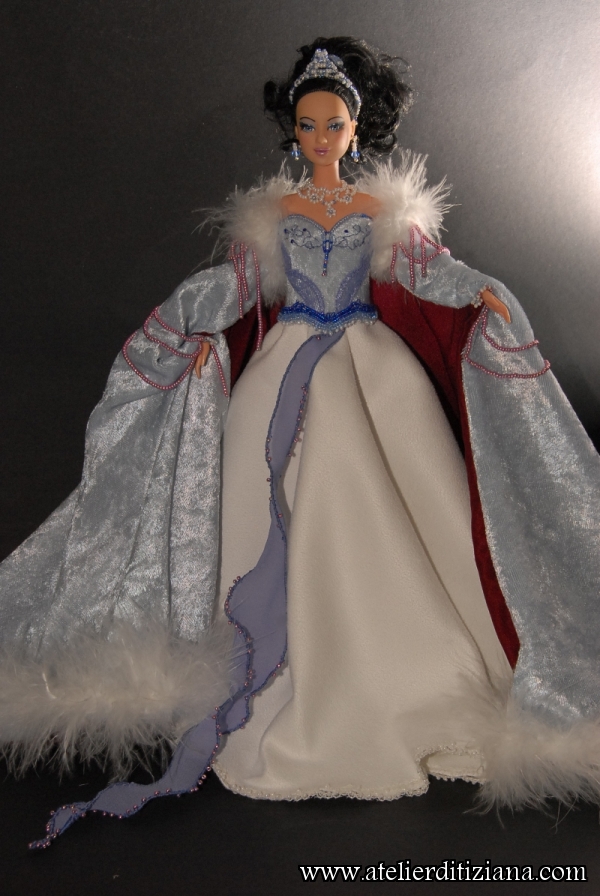 Category:
Fantasy, Likeness, Commissioned
OOAK Barbie "Winter Beauty Princess"
Made to order from cross-stitch embroidery photos taken from the design of
Laura Gabutti Lattuada
.
Complete Repaint.
The dress, entirely made by hand, is made of a milk white suede cotton skirt adorned on the bottom with white lace and beads entirely hand embroidered and a "ice blue" crushed velvet mantle lined with burgundy silk and enriched with white marabou on shoulders and hem.
The bodice, made with the technique of papier-mache, is in "ice blue" crushed velvet (the same used to make the mantle) embroidered by hand and enriched with Swarovski crystals and beads.
The long waistband is in voile subsequently decorated with the same beads used to embellish the mantle.
The earrings, the bracelelets, the crown and the necklace were made with Swarovski crystals and beads.
Click on any image to view a larger version of it.