---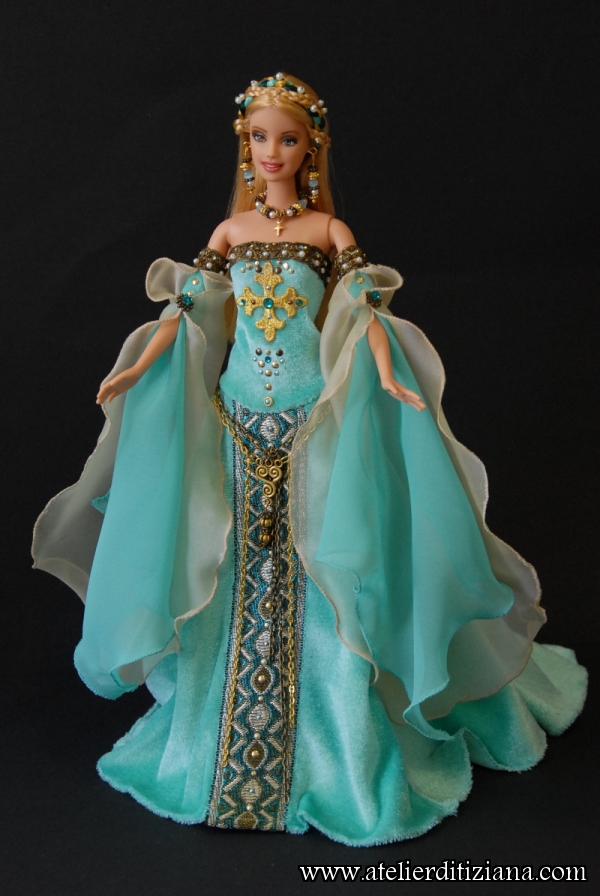 Category: Middle ages, Commissioned

Medieval OOAK Barbie. Made to order.

Complete Repaint made with professional acrylic colors and pure pigments.

The dress, entirely made by hand, is in water-green velvet finished with trimmings, beads, small metal parts and Swarovski rhinestones. The bodice is decorated with half pearls, Swarovski rhinestones and in the center has a cross embroidered in gold thread and enriched with Swarovski rhinestones and half pearls. The sleeves, in velvet, translucent beige / gold voile and water-green voile, are embellished with gold-colored metal decorations and emerald-colored Swarovski crystals. The skirt is embellished with an emerald, platinum white and bronze ribbon and decorated with half-pearls and chains at the waist.

The earrings and the necklace were made using "cat's eyes", beads and metallig decorations.
Click on any image to view a larger version of it.