---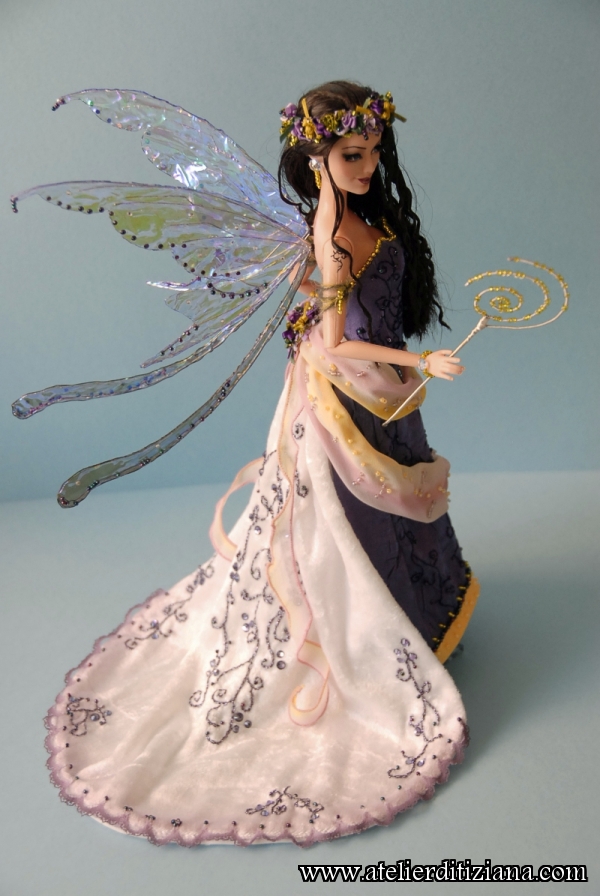 Category:
Fantasy, Likeness, Commissioned
Fairy OOAK Fashionistas Barbie.
From cross-stitching design by artist Laura Lattuada
www.passionericamo.eu
Made to order.
Total repaint made with acrylic colors and pure pigments.
The dress, entirely handmade, is in taffeta and velvet and is composed of a skirt and a bodice in semi-gloss purple / blue taffeta (both entirely hand embroidered with lurex thread, rocailles and Swarovski rhinestones) and an airbrushed milk white velvet overskirt to create purple shading at the hem, completely hand embroidered with Swarovski rhinestones, beads and purple lurex embroidery thread and finished with hand-painted lace to match the colors of the original design.
The wings are completely handmade and then adorned with beads and Swarovski rhinestones. The skirt is enriched with colored ribbons that were made with pure silk chiffon later painted with colors for fabrics to make them similar to the original design. The hairstyle and the back of the skirt are completed with hand-made floral decorations created with small ribbons of pure colored silk and beads.
The magic wand was created with metallic thread and yellow / green beads.
For the earrings and the braciale, Swarovski crystal and coral flowers were used.
Click on any image to view a larger version of it.