---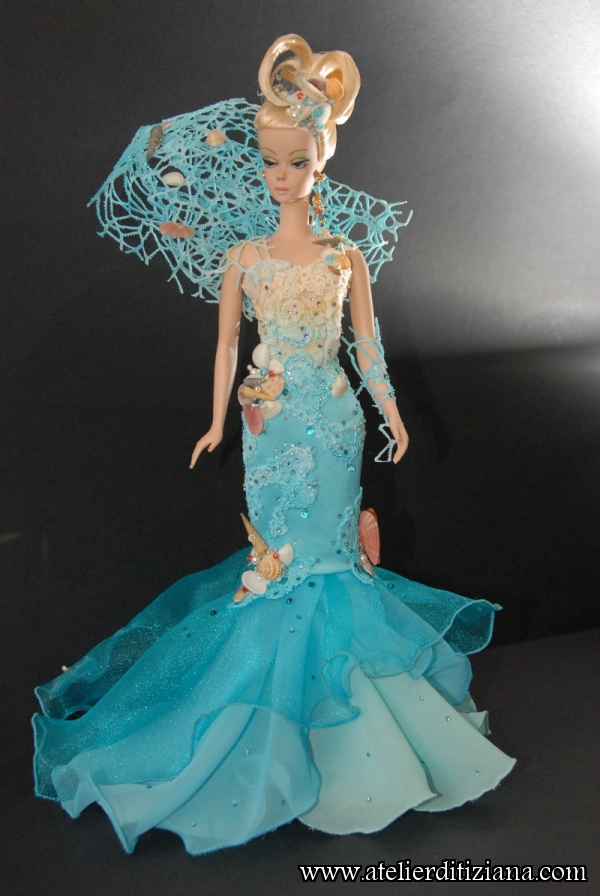 Category: Soirée

OOAK Silkstone Barbie "Queen of shells"

Total repaint.

The dress, entirely made by hand, is made of silk satin, lace, voile, chiffon and organza.
The bodice is in hand-painted lace with shaded colors from beige / light yellow to light blue, to blue, to represent the transition from the sand to the sea; lace that also continues on the skirt in various points (hand-sewn) and subsequently enriched with beads and Swarovski rhinestones in the colors of the various fabrics.
The mermaid-cut skirt ends with three flounces in chiffon, organza and voile in three shades of blue, decorated with Swarovski rhinestones of more or less intense shades depending on the color of the flounce.

The entire dress is adorned with groups of real seashells entirely hand-sewn, enriched with Swarovski crystals and beads.
More seashells complete the ahirstyle, and the stole is handpainted to resemble a fishing net.
The earrings have been made with Swarovski crystals, beads and real seashells.
Click on any image to view a larger version of it.