---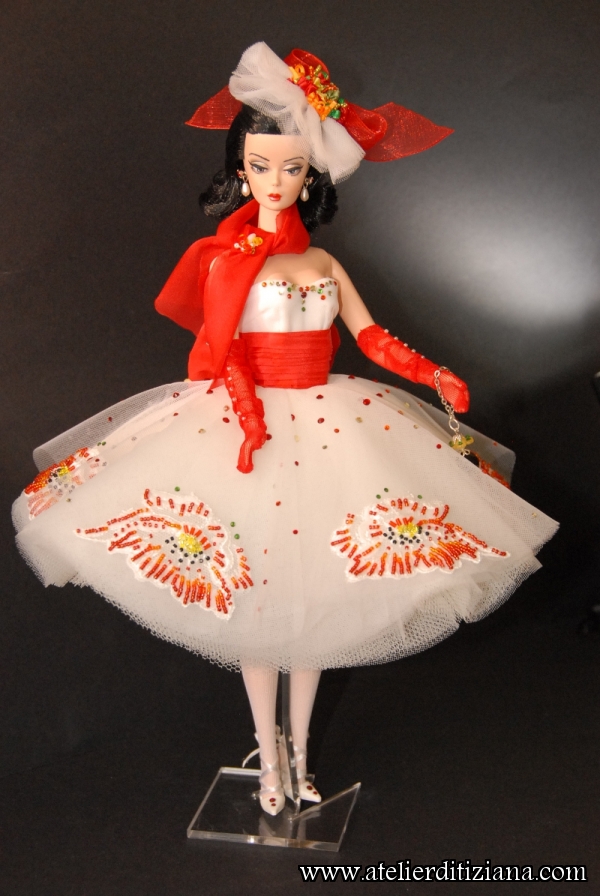 Category: Soirée

OOAK Silkstone Barbie "Sophisticated summer"

Total repaint.

The dress, entirely made by hand, is in milk-white silk tulle.
The skirt presents various applications in white lace (sewn entirely by hand) embroidered (by hand) with beads in various shades of red and orange to represent poppies, and is embellished with Swarovski rhinestones that are also found in the decoration of the bodice.
The sash at the waist is made of pure lacquer red silk; same color used for the tulle gloves, for the voile scarf and for the organza bow on the hat.
The scarf has been enriched with Swarovski crystals and beads in the same shades of the dress colors.
The cap was created with silk tulle and a fine decoration made of satin and silk ribbons and beads of various colors.

Swarovski crystals and pearls were used for the earrings.
The clutch bag was made with Swarovski crystals, Swarovski rhinestones and silver metallic decorations.
Click on any image to view a larger version of it.