---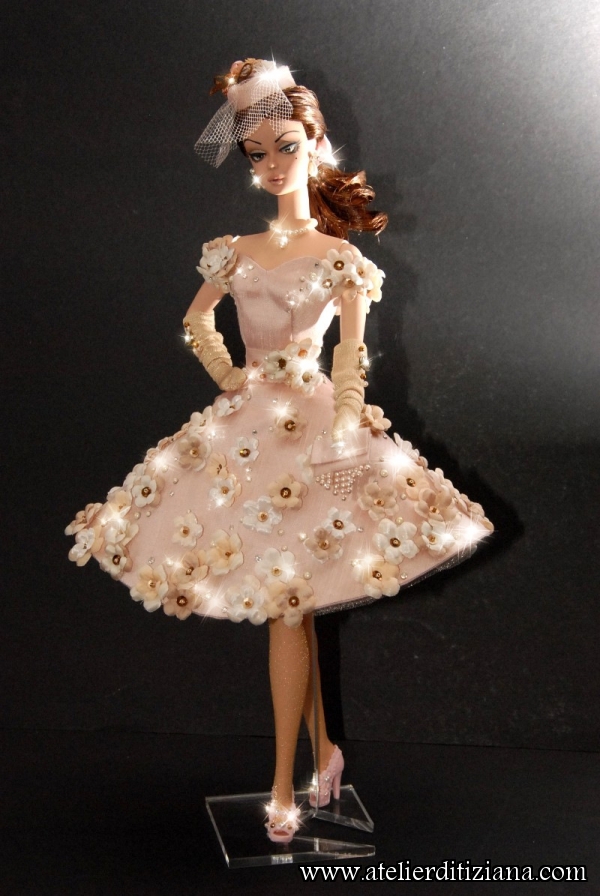 Category: Soirée

OOAK Silkstone Barbie "Retro in pink"

Total repaint.

The dress, entirely made by hand, is in pure powder pink silk shantung.
The petticoat is made of various layers of tulle and organza.
The skirt is entirely decorated with handmadde silk flowers in various shades of pink and beige, finished with sequins and beads.
The belt, in silk, is completed by a fine decoration composed of silk flowers, beads, Swarovski rhinestones and Swarovski crystals. The entire dress is enriched with numerous Swarovski rhinestones and half-pearls.

The elegant cap is made of the same silk as the dress and is adorned with a fine work of curled pure silk ribbons, pearls, little roses and pink tulle.
The pochette is in pure silk, complemented by beads in the same color of the silk and Swarovski rhinestones.
For the earrings and the necklace I used beads of various shapes. The shoes have been decorated with Swarovski rhinestones and half-pearls.
Click on any image to view a larger version of it.