---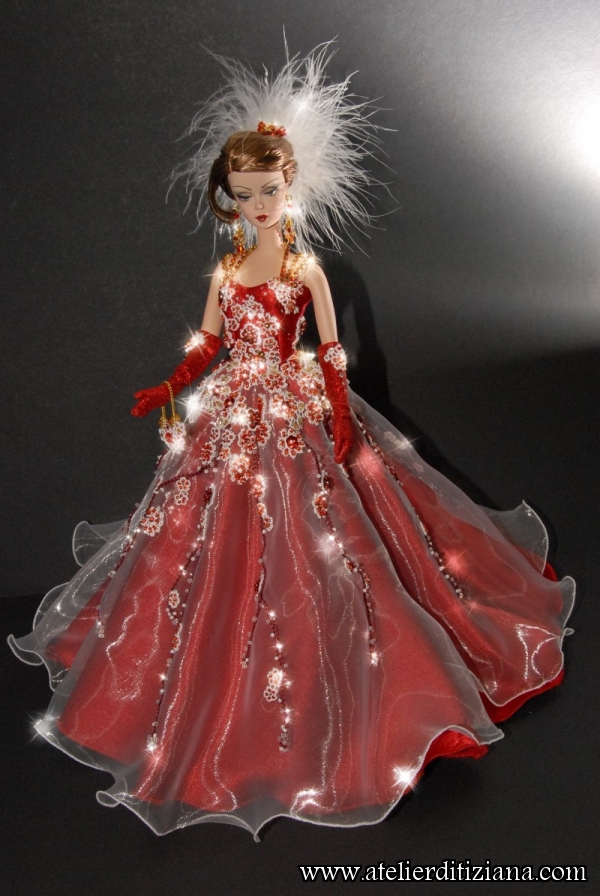 Category: Soirée

OOAK Silkstone Barbie "Flowers in red"

Total repaint.

The dress, entirely made by hand, is in red silk cady and white organza.
The red silk cady skirt serves as an underskirt with a wide translucent organza wheel decorated with white lace applications and burgundy trimmings (hand-sewn) completely hand-embroidered with orange, red, gold and white beads, and sequins. Everything is enriched with Swarovski rhinestones.
The bodice presents a work with red rhinestone chains that adorn the shoulders and back of the Barbie and is embroidered (as well as the gloves) with lace, beads, sequins and Swarovski rhinestones.

The clutch bag is made with the same lace used for the dress and embellished with red crystal flowers, beads, Swarovski rhinestones and gold-colored metal parts.


Swarovski crystals in the various shades of the dress and accessories were used.
The hairstyle is enriched with white marabou and embellished with Swarovski crystals and small flowers.
The shoes have been embellished with red, orange and diiamond Swarovski rhinestones.
Click on any image to view a larger version of it.