---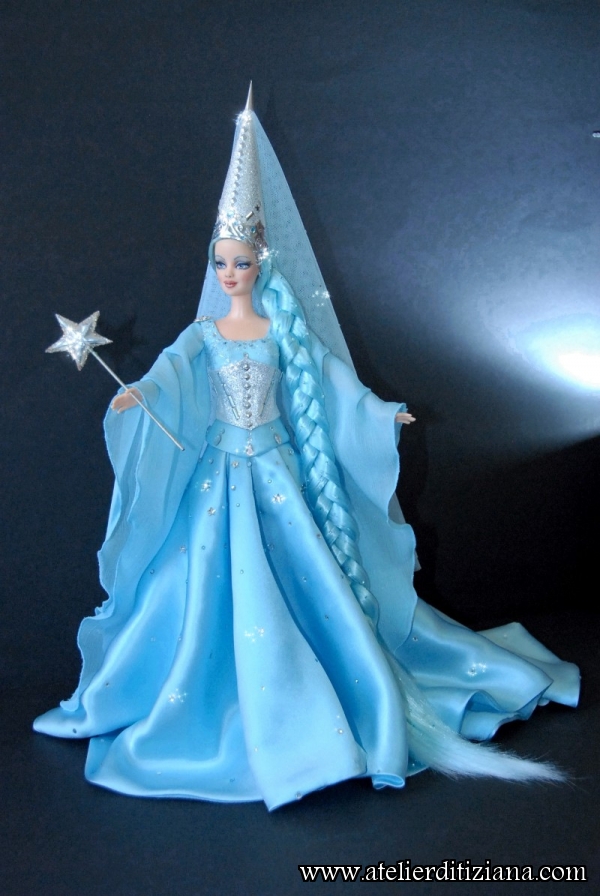 Category: Fantasy, Commissioned

OOAK Barbie "Blue Fairy"

Made to order.

Repaint and total rerooting.

The dress, entirely made by hand, is in pure light blue silk, chiffon and tulle.
The wide round skirt is dotted by clear and blue Swarovski rhinestones of various shades.
The sleeves are made of sky blue chiffon.
The bodice is in pure silk and chiffon and enriched with Swarovski rhinestones. The central part has a silver colored corset adorned with small metal parts.

The hat was made with the same silver fabric with which the corset was created and then completed with embossed metal sheets and enriched with Swarovski rhinestones and silver metallic decorations. The long veils of light blue tulle with rhinestones complete the making of the typical fairy cone shaped hat.
The long braid is enriched with small blue and silver beads.

The magic wand presents a big star made of embossed silver foil and is finished with silver glitter and two Swarovski stars in the center.
Click on any image to view a larger version of it.