---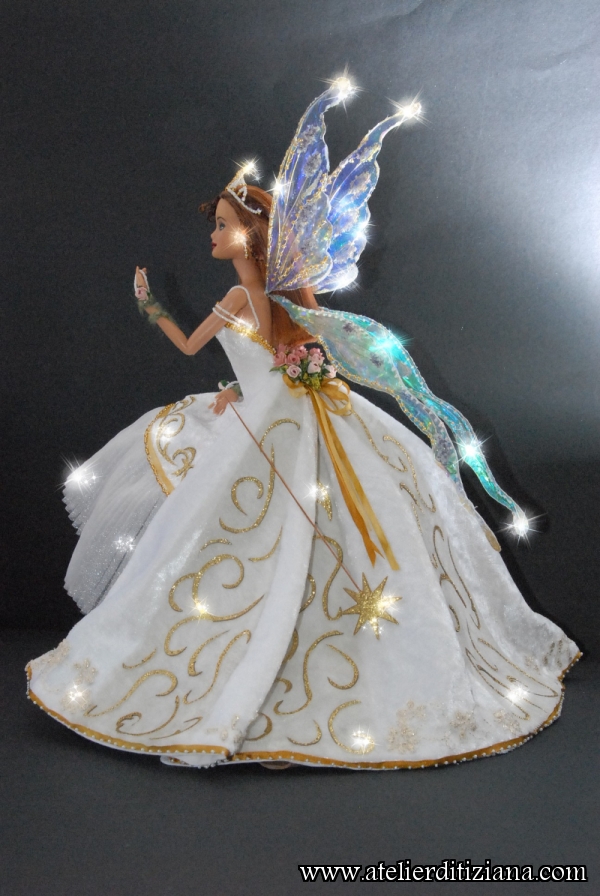 Category: Fantasy, Likeness, Commissioned

Fairy OOAK Fashionistas Barbie.

From the cross-stitch pattern by the artist Laura Lattuada www.passionericamo.eu

Made to order.

Total Repaint made with professional acrylic colors and pure pigments.

The dress, entirely made by hand, is in white velvet and bright organza.
The bodice, in velvet, is finished with an embroidery of white and golden beads. The top of the skirt is in white velvet enriched with glittery gold-colored decorations, ribbon in pure silk, antique gold and golden beads. The lower part is made with a pleated bright organza.
The overskirt is made of white velvet (the same used for the bodice and the skirt) painted by hand to refelct the colors of the original design and completed with glittery gold-colored decorations, golden lace, pure silk ribbon and white beads.
A floral composition made of pure silk ribbons of various shades of green and little roses painted by hand to respect the colors of the original design adorns the waist.

The wings are completely hand made and then decorated with hand-sewn rocailles and soft flowers.
The earrings and the chaplet are handmade with gold and white beads.

The magic wand was created with metal wire and a 3d-printed PLA star covered in golden glitter.
Click on any image to view a larger version of it.