---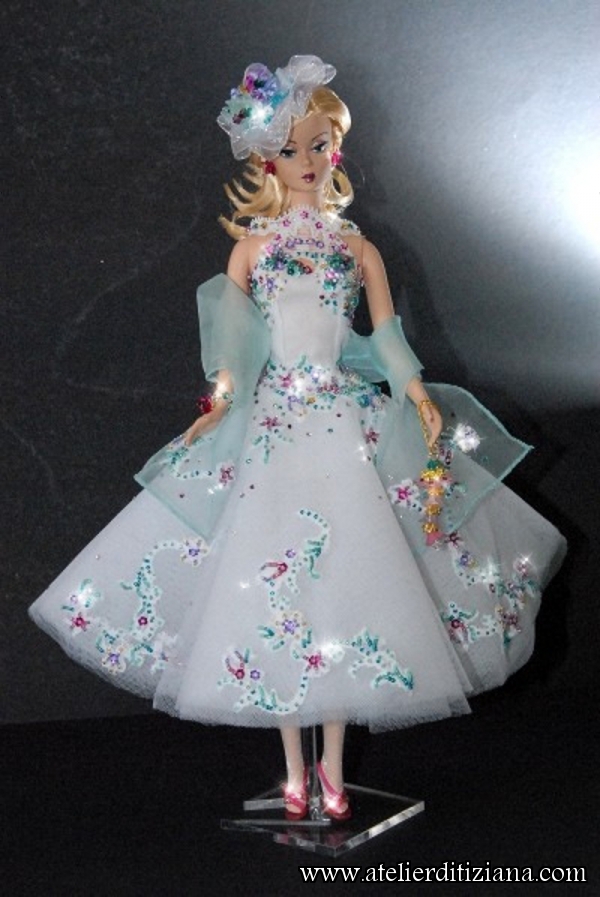 Category: Soirée

Barbie Silkstone OOAK "Delicate nuances"

Total repaint.

The dress, entirely made by hand, is made of silk tulle.
The skirt presents numerous applications in white lace (sewn entirely by hand) later enriched with embroidery (hand-made) with beads in various shades of pink and green, and is embellished with Swarovski rhinestones in the same shades of embroidery.
The bodice has a work very similar to that of the skirt with in addition some applications made with micro sequins.
The neck of the dress is adorned with Swarovski rhinestones sewn on the lace.

The stole is made of pure water-green silk organza; same color that is found in the organza of the cap, and embellished with the same applications in embroidered lace on the skirt.
The cap was made with organza, satin ribbons and Swarovski crystals of the same shades of embroidery


Swarovski crystals were used for the earrings and bracelet. The pretty handbag has been created with little flowers of various shades of pink, Swarovski crystals, Swarovski rhinestones and gold metallic findings.

The sandals have been completed with Swarovski rhinestones.
Click on any image to view a larger version of it.