---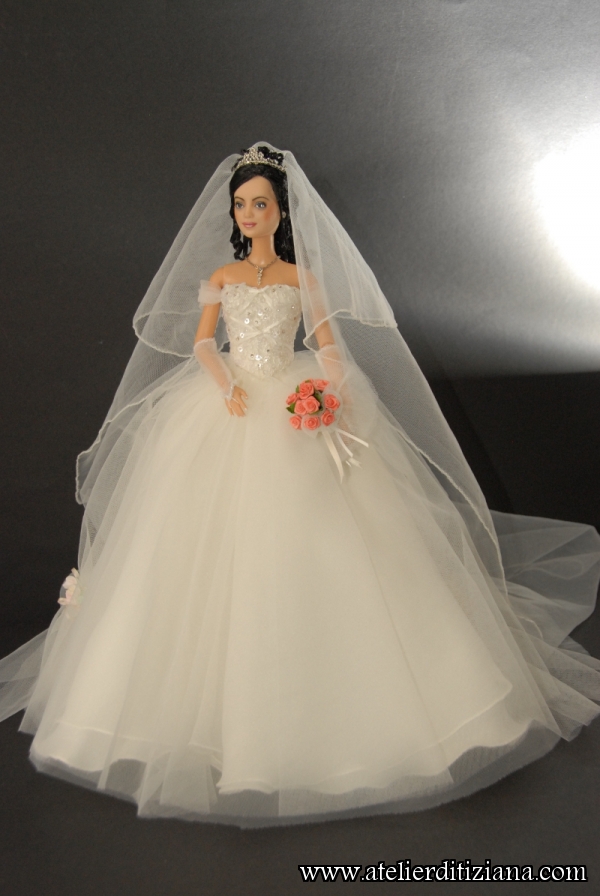 Category: Wedding, Likeness, Commissioned

OOAK Fashionistas Barbiebride.

Made on commission.

Total repaint made with professional acrylic colors and pure pigments.

The dress features a petticoat in rigid tulle,  a satin skirt, one in voile and two in milk-colored silk tulle.
The overskirt, also in silk hand tulle, is enriched with little shoots of flowers that have been made by hand painting semi-rigid satin with nuances of pink, lilac, cream and water green. Later, petals and leaves of various sizes were cut out and then assembled and sewn by hand to form the various flowers.
The bodice, made with the technique of papier-mache, has been covered with satin and embroidered tulle. It was then decorated with sequins, Swarovski rhinestones, beads and silk ribbons.
The long veil is in silk tulle.
The gloves are in tulle to which hand-made sequins and beads have been sewn.

The bouquet is composed of hand-colored little roses and silk tulle.
Swarovski rhinestones have been used for the earrings.
The necklace has been created with silver metallic decorations and Swarovski rhinestones.

The coronet has been created by hand with beads and metallic wire.
Click on any image to view a larger version of it.