---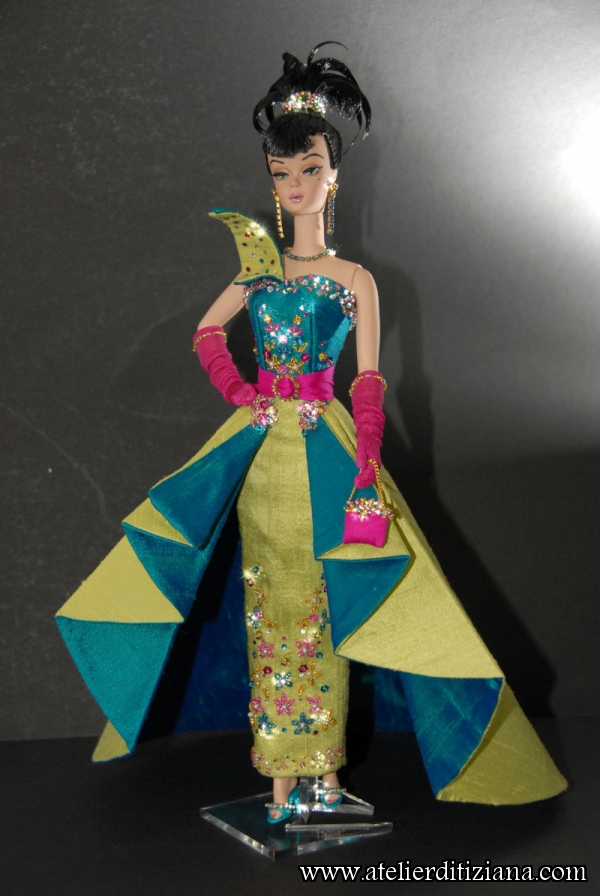 Category: Soirée

OOAK Silkstone Barbie "Brillance"

Total repaint.

The dress, entirely made by hand, is in acid green and petrol shantung of pure silk.
Both the skirt and the bodice are embroidered by hand with daisy stitches and subsequently enriched with beads, rocailles and Swarovski rhinestones.
The overskirt is made with both colors. On the front there is a particular fold that emphasizes the contrasting silk. The back, instead, has a fine embroidery (the same performed on the skirt and bodice) with Swarovski rhinestones, beads and rocailles. At the waist, the belt, made with fuchsiapure silk, is enriched by a buckle decorated with rhinestones.
The clutch bag, created with the same silk of the belt, has a fine decoration made with pearls, beads and Swarovski crystals.
The sandals are embellished with clear Swarovski rhinestones.
The gloves and the particular hairstyle complete the outfit.

Swarovski rhinestones have been used for the earrings and necklace.
Click on any image to view a larger version of it.