---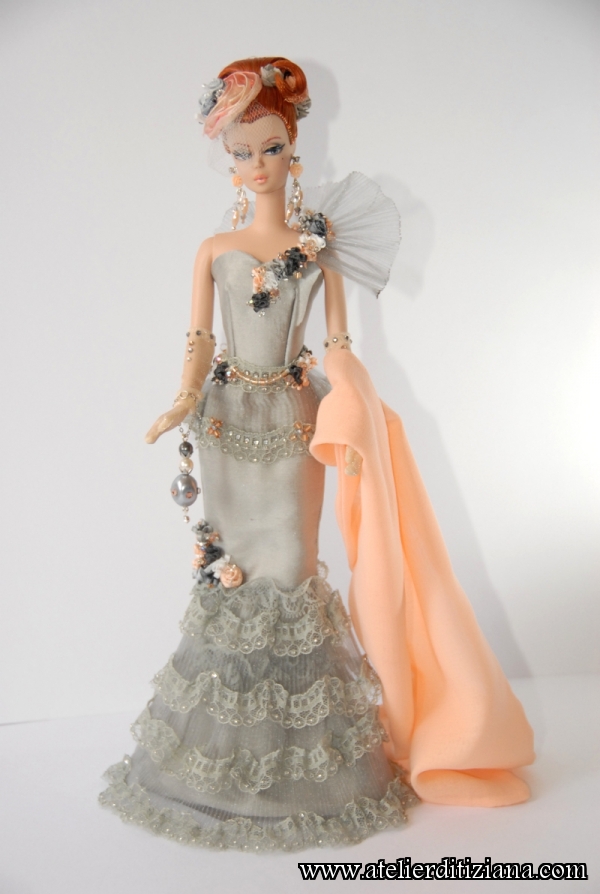 Category: Soirée

OOAK Silkstone Barbie "Miss Rose Grey"

Total repaint.

The dress, entirely made by hand, is in pure silk shantung in gray/silver color, lace and chiffon in peach color.
The skirt and the bodice are adorned with a fine and rich embroidered decoration made with pure silk ribbons, Swarovski crystals and rocailles in gray, pearl and peach colors.
The same embroidery of silk ribbons enriches the shoulder and back of the bodice.

The pochette has been created with various bijoux components and Swarovski rhinestones.

The hairstyle is completed with roses of the same shades of the dress.
The cap, in satin, was enriched with satin flowers, pearls, Swarovski crystals and a light veil.
Some tiny Swarovski rhinestones complete the gloves.

The earrings have been created with Swarovski crystals, pearls and roses.

The shoes are decorated with Swarovski rhinestones.
Click on any image to view a larger version of it.