---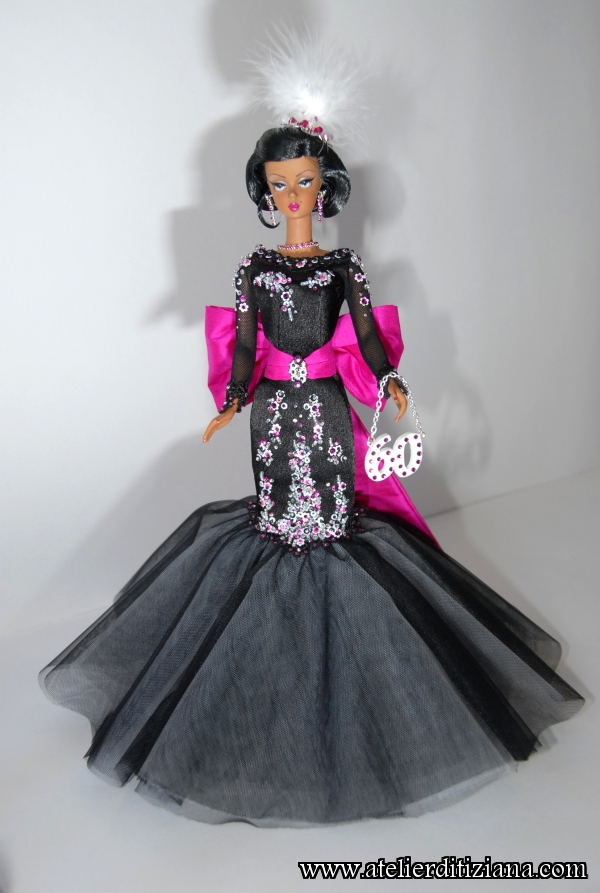 Category: Soirée

Silkstone OOAK Barbie "Black and white 60th"

Total repaint.

This elegant OOAK Barbie doll was created as a tribute to Barbie for her 60th Anniversary.

The dress, entirely made by hand, is in black colored silk cadì, tulle and lace.
The skirt and the bodice have a very rich and delicate handmade embroidery executed with sequins, rocailles and Swarovski rhinestones.
The same embroidery was made in the black tulle blouse.
The under part of the dress is formed by many black and white tulle skirts.

The big bow that enriches the back of the dress and the belt are in hot pink pure shantung silk.

The hairstyle is decorated with marabou and hot pink Swarovski crystals.

The necklace and the earrings have been made with clear and pink colored Swarovski crystals.

The pochette was specially designed and made with 3D printing and embellished with hot pink Swarovski rhinestones.

The shoes are enriched with Swarovski rhinestones.
Click on any image to view a larger version of it.