---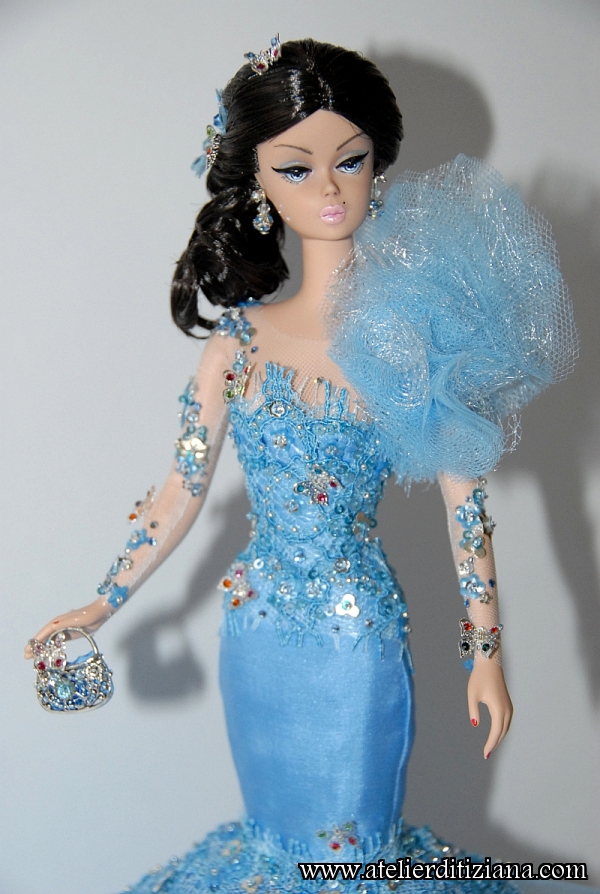 Category: Soirée

Silkstone OOAK Barbie "Butterflies in the sky"

Total repaint.

The dress, entirely made by hand, is in sky blue colored silk, tulle and lace.
The skirt and the bodice are enriched with a lace embellished with very rich embroideries handmade embroidery executed with sequins, rocailles and Swarovski rhinestones.
Gracious tiny butterflies "fly" about the entire dress.
The same embroideries were made in the "nude" tulle blouse.
The under part of the dress is formed by many blue tulle skirts.

The hairstyle is decorated with blue organza flowers, Swarovski crystals, tiny metal butterflies enriched with Swarovski rhinestones and Swarovski rhinestones.

The earrings have been made with Swarovski crystals.

The pochette was embellished with Swarovski rhinestones and one tiny metal butterfly.

The shoes are enriched with Swarovski rhinestones.
Click on any image to view a larger version of it.