---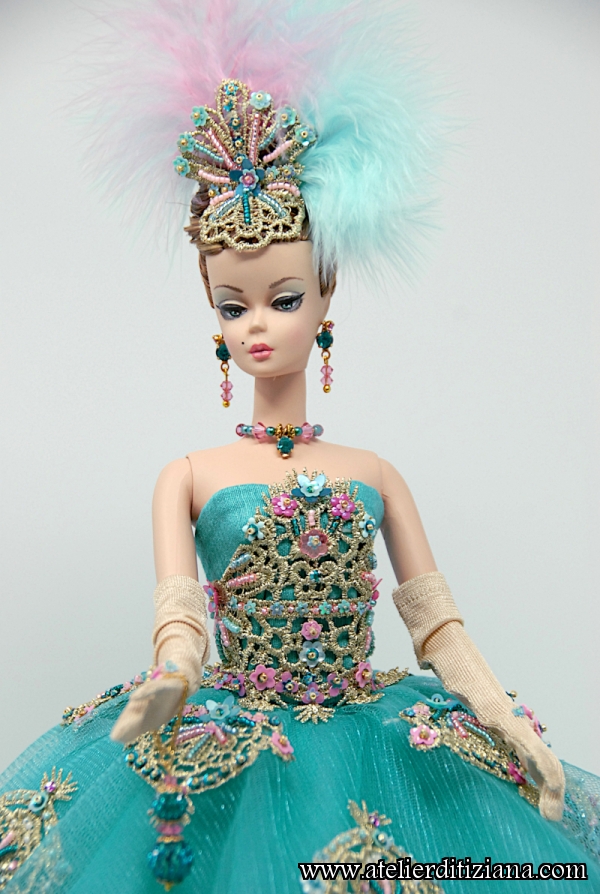 Category: Soirée

OOAK Silkstone Barbie "Emerald queen"

Total repaint.

The dress, entirely made by hand, is made of pure silk shantung, tulle and lace.
The skirt is composed of 12 layers of different green shades tulle layered so that the final color matches the color of the pure silk of the bodice and of a pure light green cotton petticoat.
The bodice is enriched with an dark gold lace and embellished from a rich embroidery (performed by hand) with beads and sequins pink, gold and green.
The same embroidery also enriches the whole wide skirt.

The elegant light gold gloves are decorated with a fine embroidery with sequins and beads.

The handbag, was made with Swarovski rhinestones and beads in the same nuances used for the decorations on the whole dress.

Some feathers and an exquisite lace decoration embroidered with sequins and beads, complete the outfit.

The jewels were made with Swarovski crystals and beads.

The shoes are anriched by pink, green and clear Swarovski rhinestones.
Click on any image to view a larger version of it.