---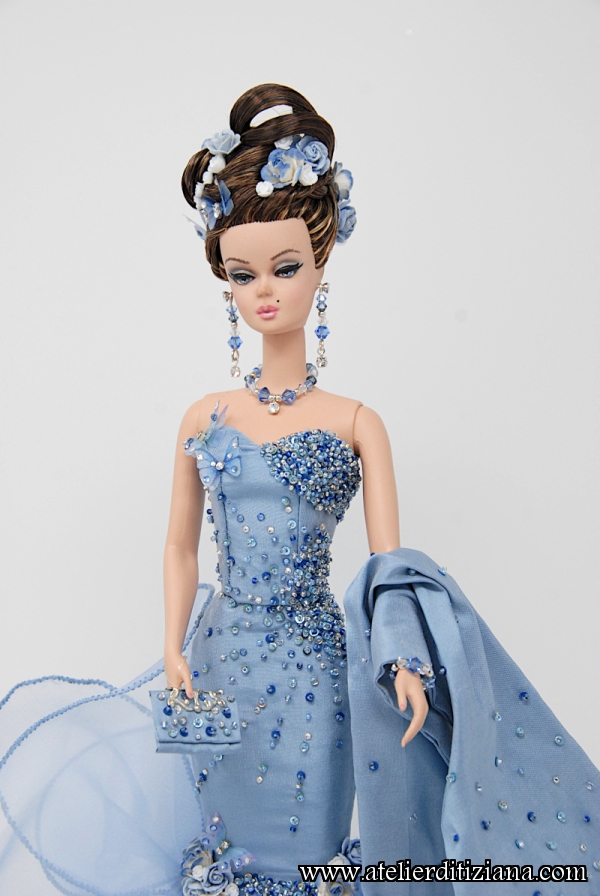 Category: Soirée

OOAK Silkstone Barbie "Moonlight".

Total repaint.

The dress, entirely made by hand, is in pure light blue silk shantung and organza of pure silk.
The skirt and the bodice have a very rich and delicate embroidery executed with Swarovski, silver and blue nuances rocailles and tiny sequins.
The lower part of the skirt was created with voluminous sheers in organza of pure silk in dusty blue and blue/grey colors completed with mini roses, butterflies and a rocailles and sequins decore.

The handbag, in pure silk shantung, is embellished with Swarovski crystals, rocailles and tiny sequins.

The elaborate hairstyle is completed with a composition of tiny roses, butterflies and Swarovski rhinestones in the shades of the dress and accessories.

The jewels have been created with Swarovski crystals and mini pearls.

The shoes are decorated with Swarovski rhinestones.
Click on any image to view a larger version of it.